5th Annual Power Your Potential - Montgomery County Women's Conference
Presenting Sponsor:


Join women from around the county for virtual networking and empowering programs.

Morning Keynote Speaker: Sharmain Matlock-Turner, President & CEO, Urban Affairs Coalition
Afternoon Keynote Presentation: Theresa Hummel-Krallinger, High Five Performance

Power Sessions:
Program Descriptions can be found on the Conference homepage: https://www.chambergmc.org/2020-power-your-potential/

Downsize Your Life, Upgrade Your Lifestyle: Secrets to More Time, Money and Freedom, presented by Rita Wilkins, The Downsizing Designer
Lemons into Lemonade: Achieving Success through Failure, presented by Eloise N. Young, Sr. VP of Strategic Planning and Information Services, Philadelphia Gas Works
Using LinkedIn to take your Business to the Next Level, presented by Brynne Tillman, CEO & LinkedIn Whisperer, Social Sales Link
Utilizing Mindfulness During Times of Uncertainty, presented by Harriet Stein, Big Toe in the Water LLC
Shock Your Potential, presented by Michael Sherlock, Chief Potential Officer, Shock Your Potential
Don't Sweat the Small Stuff, It Could Kill You, presented by Kellye Remshifski, Wellness & Outreach Manager, Doylestown Health
How to Exercise Your Financial Muscle, presented by Sonja M. Haggert, author
Speaking to Influence: Mastering Your Leadership Voice, presented by Dr. Laura Sicola, Vocal Impact Productions


Thank you to our Sponsors: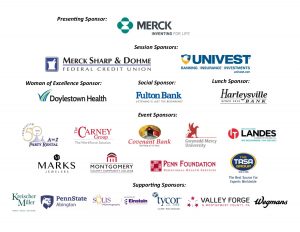 5th Annual Power Your Potential - Mon...
Date and Time
Friday Oct 30, 2020
8:00 AM - 5:00 PM EDT
October 30, 2020
8:00am - 5:00pm Via Zoom
Location
Virtual via Zoom

Conference Agenda:
8:00am - Welcome & Keynote Speaker
9:30am - Power Session 1
11:00am - Power Session 2
12:00pm - Networking Breakouts
1:30pm - Keynote & Presentation of Woman of Excellence Award
3:00pm - Power Session 3
4:00pm - Happy Hour Networking/Raffle Drawing

Fees/Admission
$125/Attendee
Includes 8 Power Sessions, 2 Keynote Presentations, Attendee Contact List, Raffle Prizes, Normandy Farm Gift Card, and bottle of wine for toast and Happy Hour.

No refunds or credits will be processed for this event after September 30, 2020.